Fundamental Approach to Corporate Governance
In accordance with Bandai Namco's Purpose, "Fun for All into the Future," the Company and the Group aim to work together with people around the world to continue creating a future for everyone where people and societies are connected with dreams, fun and inspiration. In order to realize "Bandai Namco's Purpose," the Company and the Group sufficiently understand the importance of various stakeholders related to the Company and have a basic management policy of maximizing the corporate value of the Company and its shareholders' common interests over the mid-to long-term.
The Company believes that construction of a solid management foundation (corporate governance) is absolutely essential in order to emerge victoriously in the global competition of the fast-changing world of entertainment.
Corporate Governance System
The Company is working to enhance the supervision of management. The board of directors includes 12 members, of whom 4 are outside directors. Moreover, in order to ensure that the Company responds to changes in the management environment as promptly as possible and to further clarify the responsibilities and awareness of directors, the term of directors has been set at one year or less.
The Company adapts Company with Audit & Supervisory Board. The Audit & Supervisory Board comprises four statutory auditors, of whom 3 are outside auditors. Two of the statutory auditors are full-time. In accordance with the allocation of responsibilities as determined by the Audit & Supervisory Board, each statutory auditor conducts audits, working with the independent auditors as needed.
The Internal Auditing Division rigorously audits business execution, and the independent auditors provide account auditing. With close interaction centered on the statutory auditors, the Company's internal control systems are continually monitored, and all issues are identified and understood and recommendations for resolving those issues are provided.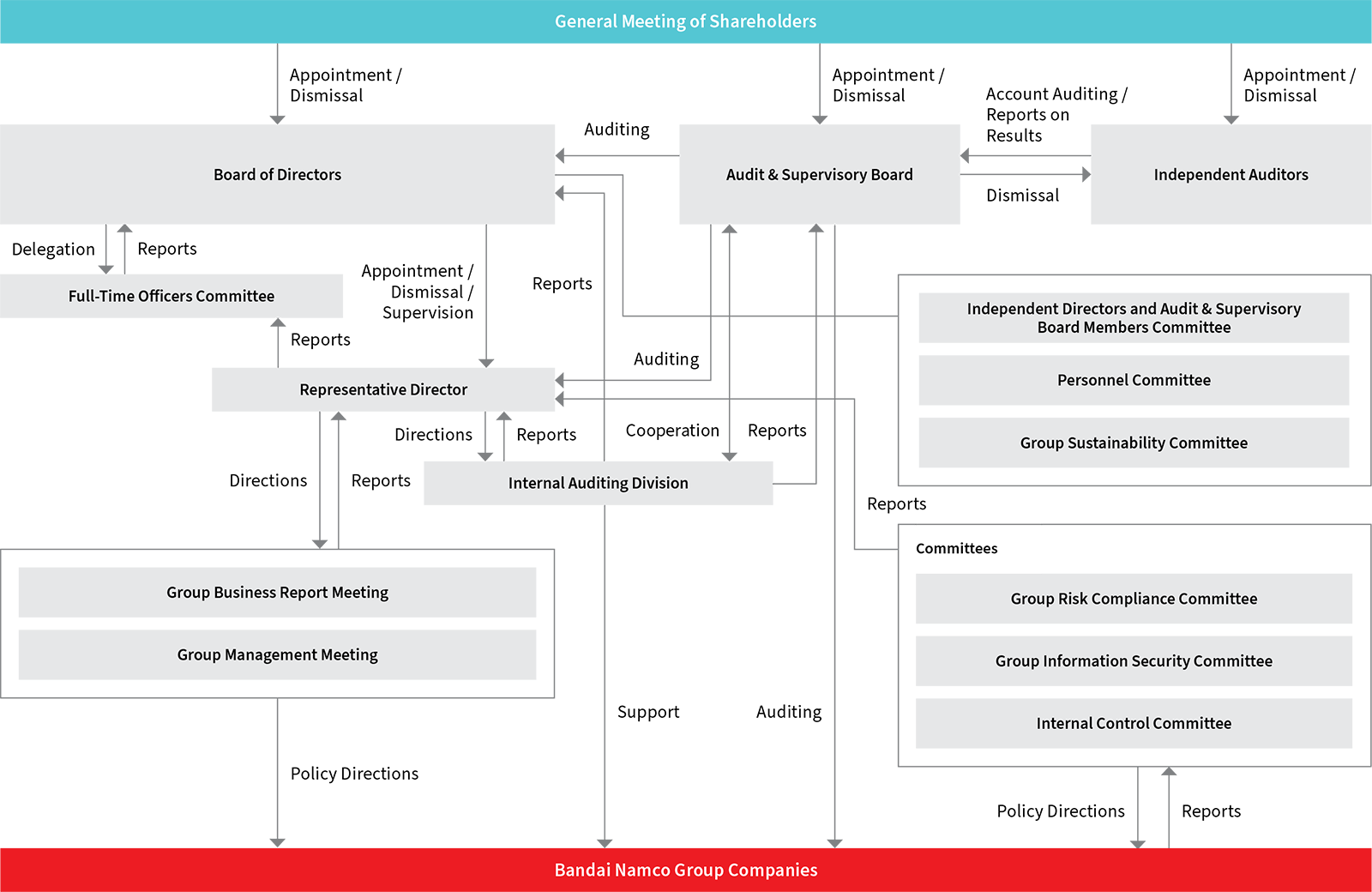 * The Company has notified the TSE that the 4 outside directors and 3 outside Audit & Supervisory Board members are all independent directors or independent Audit & Supervisory Board members in accordance with TSE regulations.
Main top management meetings attended by Directors and Audit & Supervisory Board members are shown below.
Note: Scheduled to be held in FY2023.3
Board of Directors
Monthly and otherwise as needed
Decisions / reports on matters stipulated by law; items to be resolved in accordance with authority standards; reports on the status of business execution; reports regarding sustainability, crisis management, and compliance
Directors, audit & supervisory board members, other designated individuals
Group Sustainability Committee
Semiannually
Discussions and sharing of information related to the Group's important sustainability strategies; consideration of proposals and deliberation regarding items to be reported at meetings of the Board of Directors; overall supervision of the Group Sustainability Subcommittee; overall supervision of progress with material issues for each Unit and affiliated business company
Full-time directors, business management company presidents and representative directors, other designated individuals
Full-Time Officers Committee
Twice per month
Decisions / reports on matters for which authority has been delegated from the Board of Directors; decisions / reports in accordance with standards for duties and authorities; reports on the status of business execution
Full-time directors, business management company presidents and representative directors, full-time audit & supervisory board members, other designated individuals
Waigaya Meeting
Weekly
Weekly reports regarding the departments for which directors are responsible for
Full-time directors, business management company presidents and representative directors, other designated individuals
Group Business Report Meeting
Four times per year
Group numerical reports, Unit reports and regional headquarters reports, risk information, other items to be reported
Directors, audit & supervisory board members, presidents and representative directors of business management companies, representatives of regional headquarters, other designated individuals
Group Management Meeting
8 times per year
Discussions about Group management issues and mid-term plans; deliberations regarding issues extending across Units; other Group management issues; strategic deliberations; deliberations regarding Groupwide policies, medium to long term prospects, etc.
Full-time directors, business management company presidents and representative directors, other designated individuals
Vision Meeting
2 times per year
Deliberations about what the Group aims to be and medium to long term targets; deliberations about addressing ongoing issues
Directors, audit & supervisory board members, other designated individuals