GUNDAM OPEN INNOVATION
Gundam Open Innovation is a program that makes future dreams and hopes a reality. Reconsidering the "Universal Century" once again, multiplying "Gundam" and "future technology" we solve the "social issues" in this real world and make it better.
The grand world of Gundam is packed full of new technologies and possibilities not yet attainable in the present.
In order to transform these possibilities into realities and advance toward an exhilarating future, we would like to combine the creativity, knowledge, and passion of many people.
By working hand-in-hand with Gundam to make the future concepts you conceive real, let's create a world bursting with hopes and dreams.
Over four decades ago, "Mobile Suit Gundam" sounded the horn about population growth and deterioration of the planet environment.
This was symbolized by the concept of a new era called the "Universal Century", which began with the start of human immigration to space.
We confront the vast universe including the earth as a species, not as an individual. This is one of the underlying themes of the Gundam series. In line with this theme, BANDAI NAMCO Group will carry out GUDA toward the "(Real) Universal Century"
Themes of Interest
We are looking broadly for innovative ideas and technologies, related to sustainable themes/domains that could help future society deal with the same problems as the Gundam world, such as over-population, environmental destruction, and space colonization.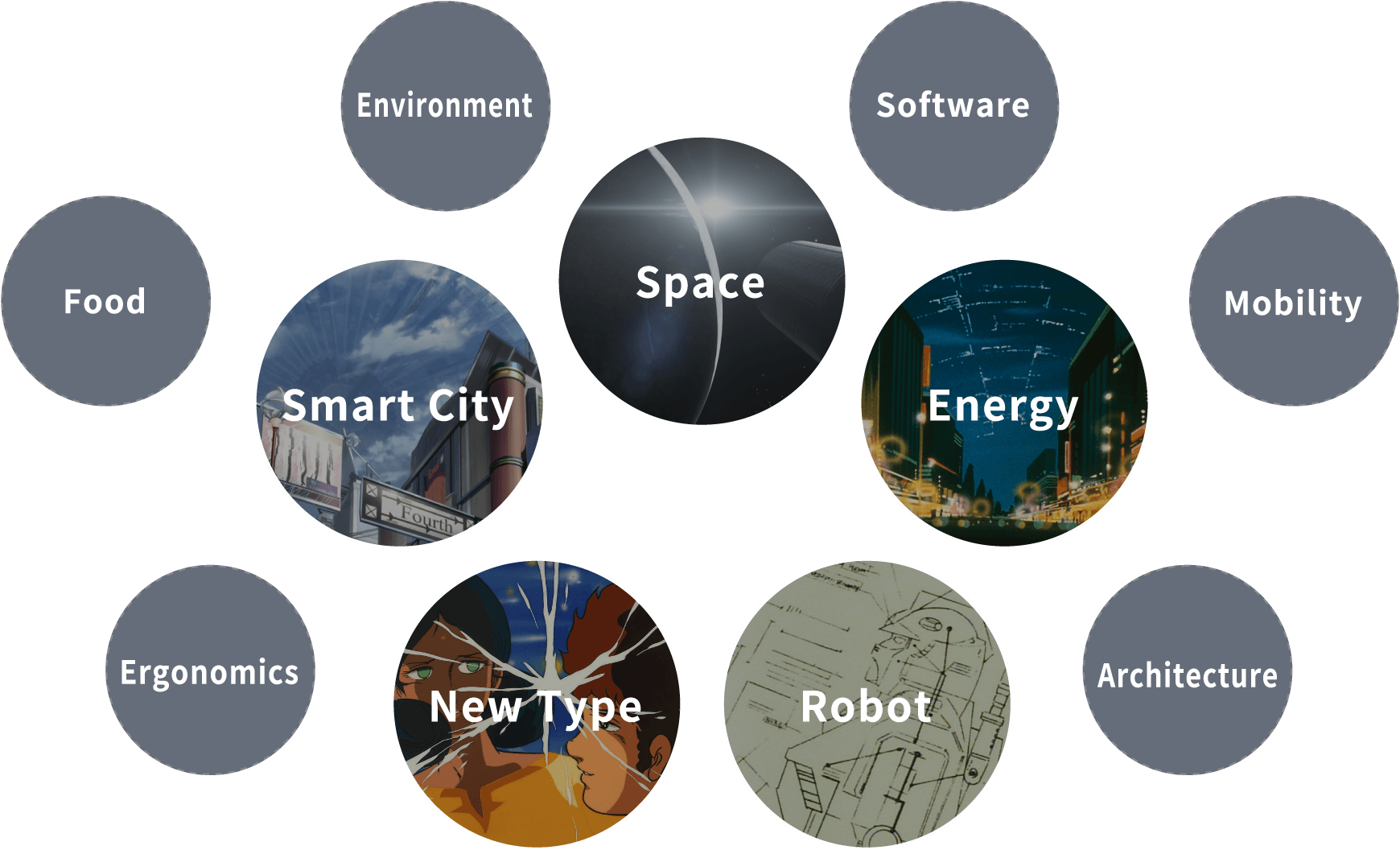 etc…
Partners we seek
We are searching broadly for partners who are experts, innovators, research organizations, pioneering companies, etc. with a vision on innovation of the human race originating from Universal Century or a future society desired by humans, and who also possess expertise in a variety of fields which allows them to advance steadily toward such goals.
Program characteristics
Gundam Open Innovation's aim is to utilize various ideas, technologies, and resources, to co-create new values and realize dreams for the future society of Universal Century.
Schedule
June 15 (Tue)

Project overview presentation

※At the Gundam Conference
July 15 (Thu)

Project overview video release and entry opening
July 20 (Tue)

Detail explanation meeting and Q&A session
August 15 (Sun)

1st application deadline

※We recommend you submit by the first deadline as this will allow us to begin the selection process and interview you sooner.
September 15 (Wed)

2nd application deadline 
Grand Schedule 
Announcement of selected partners

Announcement of action plans with selected partners

Disclose progress with selected partners

Report on activity with selected partners (Presentation)
FAQ
Program Overview
Are you looking for any kind of technology, research, or initiative that could help reach the Universal Century?

Yes, as long as it could help reach the Universal Century, we will consider any kind of technological research and development, initiatives, etc., so we are seeking partners across a broad of industries and fields.
Briefing
Why are you holding a briefing?

The briefing aims to help those interested understand our way of thinking regarding this program so that people can apply after clearing up any questions or doubts they may have about the nature of this program.
Are there any conditions to participate?

No. Even if you don't have a solid plan or are still not certain if you really want to apply to this program, you can participate in the briefing if you are interested in technological research and development, initiatives, etc. in any of a variety of fields.
Submission for co-creation plan
Do I have to participate in the briefing to apply for the co-creation plan?

No. You can apply for the co-creation plan without participating in the briefing. However, we encourage you to participate in the briefing as it is an opportunity to learn more about this program.
What are the selection criteria?

We will be looking at your level of commitment to both Gundam and the vision clarity for future society, as well as the technology or a highly innovative initiative to support this.
Are there any age, gender, or nationality restrictions for applying to the co-creation plan?

No. None whatsoever.
When will you start accepting entries into the co-creation plan and when is the deadline?

Application period: July 15, 2021 - September 15, 2021.
(1st deadline: August 15, 2021, 2nd deadline: September 15, 2021)
How can I apply for the co-creation plan?

Apply than "Apply for Gundam Open Innovation" of our site.
Details of support
What kind of support will be provided when be selected?

We plan on providing the below forms of support: As a Gundam-approved project - promotion of activity with support of official Gundam brand, provision of Gundam materials, resources, etc., provision of IP materials, resources, etc.; as a joint project – project co-creation and support with a mind to long-term liaison, consideration into funding in accordance with future potential, achievements, etc. for the target area; and as a space for social implementation and announcement – provision of concept social implementation, events, etc.
Intellectual Property Rights
Will the ideas of the participating teams be protected?

We will respect the ideas of each participating team to and will not publish them to other teams without permission, except for the announcement of the co-creation plan. However, since there are so many ideas in the world that the participating teams may come up with similar ideas, we do not presume sealing non-disclosure agreements etc. for project ideas themselves.
BANDAI NAMCO Group

BANDAI NAMCO Group's strength is our IP axis strategy that aims to maximize IP value by leveraging IP worldviews and providing the optimal products and services in the optimal regions at the optimal times.

In line with our IP axis strategy, we will continue to maintain a sense of pride and responsibility for our work in providing "Dreams, Fun and Inspiration" through the Group's products and services, and on that basis, we will strive to forge connections with fans in global markets and contribute to the creation of a world that fosters happiness.

To corporate website