The Network Entertainment Unit, which conducts planning, development, distribution, and sales of network content, home video games, etc., has announced the mid-term vision of being a "Transnational Company" Creating Value for Consumers. To develop its business, the Unit will aim to work from a global viewpoint and continue to provide value that is always a half step ahead of the needs of users. In this section, Yasuo Miyakawa, who became president and representative director of Bandai Namco Entertainment Inc., the Unit's core company, from FY2020.3, discusses the market environment, current business trends, and future strategies and visions.
It has been six months since you became president.
Miyakawa: In April 2019, I left my position as president of SUNRISE, the core company in the IP Creation Unit, to become the president of Bandai Namco Entertainment. There are differences in the products and services offered by these two Units, but both businesses are the same in the sense that they offer entertainment. Moving forward, I would like to take on a variety of challenges to ensure that we can continue to provide high-quality content that leverages Bandai Namco's distinct strengths and reflects abundant creativity, while connecting with customers.
What are your thoughts about the operating environment?
Miyakawa: The entertainment business model is changing rapidly. For example, the subscription business, which was rapidly adopted in the fields of music and visual products, is also starting to make gains in the game industry, and the advance of CG and communications technologies is breaking down the boundaries between visual products and games. Accompanying these changes, giant companies from other industries, which were not previously competitors, have started to enter the market in large numbers.
In addition, we are starting to see a transition from an era in which business operations ended with the sale of a completed product to an era of an "ongoing operations business model" in which games are periodically updated and events are held so that the same game can be enjoyed for an extended period of time. In these ways, the business environment is changing dramatically, and in this setting I think we have reached the point where we must make bold changes.
Are there any changes in the area of marketing?
Miyakawa: During the era in which game software was primarily distributed and sold as a tangible product, strategies were considered at the level of countries and regions. However, with download sales now advancing rapidly, it is necessary to implement initiatives that transcend national boundaries. We must change from the previous approach of making products in Japan and selling them overseas. We need to work as a "global company," with local subsidiaries in each region working from their various perspectives to make and sell products for worldwide markets. We are already producing games originating in certain overseas regions, and going forward we will strive to further expand these initiatives.
The company is also taking steps to create a new entertainment business that transcends the game framework.
Miyakawa: In April 2015, the company name was changed from Bandai Namco Games to Bandai Namco Entertainment. The new name incorporates the idea of taking on the challenge of providing services and content that leverage Bandai Namco's distinctive strengths by broadly defining our field of business as entertainment rather than limiting ourselves to our existing business in the field of games.
One initiative that is representative of this idea is our participation, from August, in the management of the Shimane Susanoo Magic, a B.League professional basketball team based in Japan's Shimane Prefecture. The world of sports is analog rather than digital, but we believe that as the digital society progresses the importance of the analog world will increase. For example, holding e-sports tournaments in a real venue, rather than over the Internet, enables competitors and customers to actually gather together, and this has an appeal that can only be experienced in an analog setting.
The Shimane Susanoo Magic have just moved back up to the B1 level this year. Fans and members of other local communities have been drawn together, and the team's efforts to move up have fostered interest in the drama of competition. I think it will get even more interesting going forward. We will strive to implement initiatives that leverage Bandai Namco's distinct viewpoint, such as creative measures at venue booths and collaborations between our IP and the Shimane Susanoo Magic. In these ways, we will work together with members of the local community and fans to create and sustain an atmosphere of excitement around the team.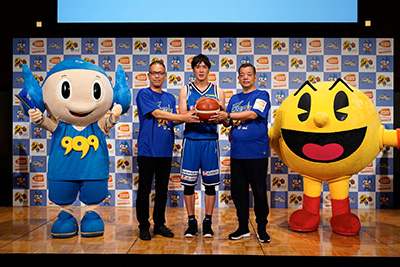 ▲Announcement of participation in the management of the Shimane Susanoo Magic
The Bandai Namco Entertainment Festival was also quite successful.
Miyakawa: The Bandai Namco Entertainment Festival was held on October 19 and 20 at the Tokyo Dome. It was our first festival-style live event featuring appearances by large numbers of artists and idols connected with the Bandai Namco Group's IP. The objectives were to entertain the fans of each IP as well as to create opportunities for fans to learn about other IP. Both days were sold out, and the festival was a major success. Going forward, we will strive to communicate the appeal of the IP rolled out by Bandai Namco as we leverage these types of real venues in addition to digital fields.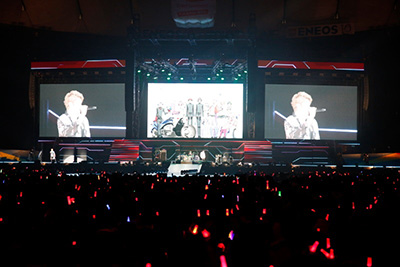 ▲Bandai Namco Entertainment Festival
©SUNRISE/PROJECT L-GEASS Character Design
©2006-2017 CLAMP・ST
Planning to launch multiple new major titles and aggressively taking steps to address new platforms
What is the situation with roll-outs in the second half
Miyakawa: In home video games, we launched CODE VEIN, which is entirely original IP from the company, in late September. We are aiming for shipments of one million units during the current fiscal year. In addition, we plan to launch multiple major new titles, such as DRAGON BALL Z KAKAROT (launch planned for January 2020), ONE PIECE Pirate Warriors 4 (launch planned for March 2020), and ELDEN RING, which was jointly developed with FromSoftware Inc. (launch timing not yet determined).
In network content, we will continue our efforts to sustain the popularity of core titles, such as the DRAGON BALL series, ONE PIECE, and THE IDOLM@STER series. Moreover, we started on-line distribution of GUNDAM BREAKER MOBILE in the first half, and it has been popular in Japan and overseas. Moving forward, we will continue to take on the challenge of new titles that reflect the same dedication to quality.
Moreover, we are also working aggressively to address new platforms. From October, we started distribution of PAC-MAN PARTY ROYALE on Apple Arcade, the subscription service operated by Apple. Furthermore, we plan to distribute DRAGONBALL XENOVERSE 2 through Stadia, a cloud game platform being rolled out by Google. We are aiming to make these initiatives into opportunities to put our games into the hands of fans that we previously were unable to reach.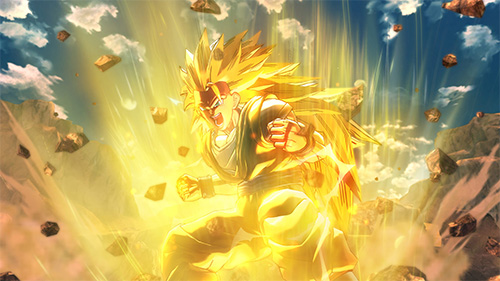 ▲DRAGONBALL XENOVERSE 2 (Plan for online distribution to Stadia)
©BIRD STUDIO/SHUEISHA, TOEI ANIMATION
©Bandai Namco Entertainment Inc.
In 2020 PAC-MAN will reach its 40th anniversary.
Miyakawa: We believe that PAC-MAN, which is in-house IP, holds significant potential. We plan to implement initiatives for the 40th anniversary, centered overseas. In advance of those initiatives, in November we launched a teaser site and released a music video. In addition, we exhibited at ComplexCon, a cultural event in the U.S. PAC-MAN has an especially strong presence in the U.S., much stronger than in Japan, and we will implement a variety of measures from the U.S. to regions around the world. In this way, we will strive to communicate the new appeal of PAC-MAN.
What are your policies toward work?
Miyakawa: I like the phrase "If you keep on trying until you succeed, then you won't really fail." If you quit as soon as you fail once, then you will have a failure, but if you don't give up and continue until you succeed, then you won't really fail. I have told our employees that it is important to have an image of success and to work towards that success with everything you've got. If you don't take on challenges, then you won't succeed and you won't grow. Of course, challenges that involve risks exceeding the scale of the company require careful judgment by leaders, but going forward I want to create an environment in which each employee is able to take on challenges without fearing failure.
This article is an extract from the Newsletter, Bandai Namco News, which was published in December 2019 and partially re-edited.