Specification of Material Issues
Aiming to further enhance the effectiveness of CSR activities, since 2010 the Group has taken steps to address the Bandai Namco Group's Important CSR Themes, which have been periodically reviewed. The Bandai Namco Group takes into consideration the changes in its business environment as well as the expanding expectations and demands of communities. As a member of society, we strive to support the realization of a sustainable world. Accordingly, in order to develop CSR activities into sustainability activities, from FY2022.3 we have specified the Group's material issues (reviewed the appropriateness of important CSR themes) based on the Bandai Namco Group Sustainability Policy. Since April 2022, based on the specified material issues, we have been working to establish targets and implement initiatives.
Process of establishing material issues
The Bandai Namco Group determined its material issues through the following process.
STEP1
Listing
From the perspectives outlined below, we created a list of social issues to be analyzed and narrowed the list to 20 items.
STEP2
Mapping
We mapped these items on two axes: Importance to Stakeholders and Importance to the Bandai Namco Group.
STEP3
Specification
We incorporated the content of management deliberations and specified the material issues. We obtained comments from outside experts.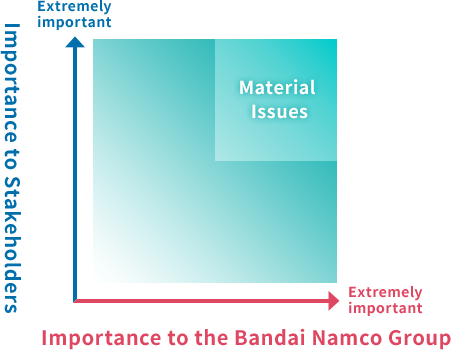 Perspectives that are emphasized during establishment/verification
The Bandai Namco Group's Approach and Policies
The Bandai Namco Group Corporate Philosophy
The Bandai Namco Group Sustainability Policy
The Bandai Namco Group Compliance Charter
The Bandai Namco Group Mid-term Plan
Related Group policies/guidelines (Group Sustainability Regulations)
Trends and Demands of Society in Japan and Around the World
Various policies and guidelines from international institutions, research institutions, and governments Example: Sustainable Development Goals (SDGs), Ministry of the Environment's Environmental Report Guidelines, GRI Guidelines, TCFD recommendations, SASB standards, ESG evaluation institution guidelines and reports (CDP, MSCI, Sustainalytics, FTSE), etc.
Interviews with outside experts
Consumer surveys (implemented at irregular intervals)
Initiatives of companies that are advanced in regard to Sustainability