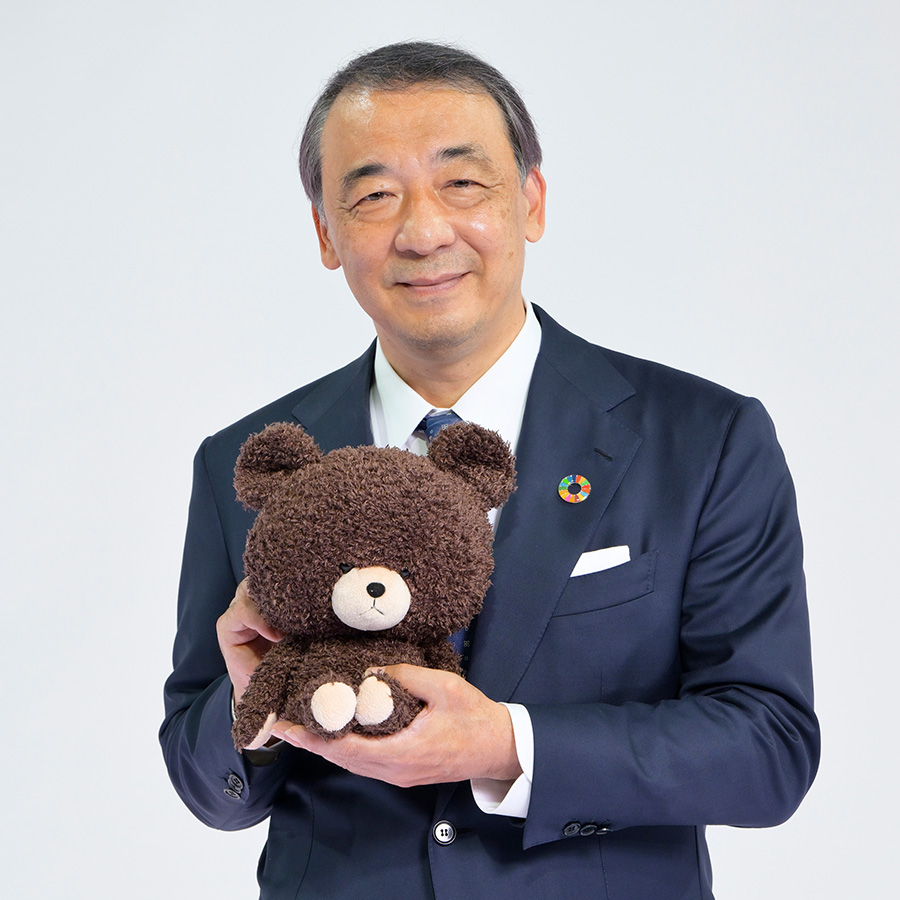 Photo with Jackie from The Bear's School,
a character symbolizing the Bandai Namco Group's sustainability activities
© BANDAI
The state of connecting and working together to create things is an especially important element of our Purpose, which is the ultimate definition of the Bandai Namco Group. The result of Bandai Namco connecting and working together with its fans is Fun for All into the Future, which signifies providing fun and inspiration to people around the world and striving to create smiles and happiness into the future. What Bandai Namco aims for based on its Purpose is to be connected with IP fans around the world, business partners, Group employees, and society. We will also work together with fans, a wide range of business partners, Group employees, and society to advance sustainability activities for the realization of a sustainable society.
The Bandai Namco Group formulated the Bandai Namco Group Sustainability Policy in April 2021. The Policy provides the basic approach of the Group to promoting sustainability activities for realizing a sustainable society. Specifically, under the IP Axis Strategy, we will work with fans to promote sustainability activities corresponding to social issues that should be addressed by the Group. In addition, we have set a mid-to-long-term target of reducing the amount of energy-related carbon dioxide emissions to net-zero by 2050 to support the realization of a decarbonized society and are advancing energy-saving initiatives, introducing renewable energy and taking other steps.
The Group recognizes the importance of promoting sustainability activities from the perspective of management strategy. Accordingly, under the Mid-term Plan that began in April 2022, the Group set out "Connecting to smiles into the future" as one of its main strategies and identified five material issues of high importance. Going forward, we will carry out specific action plans in line with these material issues.
Furthermore, in our aim to strengthen the system to promote sustainability activities, the existing Group CSR Committee has been reorganized as the Group Sustainability Committee, which will be directly under the Board of Directors, to rapidly pursue various activities for addressing social issues.
Masaru Kawaguchi
Group CEO
President and Representative Director
Bandai Namco Holdings Inc.