Supply Chain Management (Labor)
Improving labor environments in the supply chain will encourage job retention and result in higher quality products and services, which will bring a smile to the faces of stakeholders, foremost of which are customers. The Bandai Namco Group is working to improve the human rights and labor environments across the entire supply chain.
Initiatives for Labor Environments in the Supply Chain
Conduct supplier surveys based on the Code of Conduct, etc.
Bandai Namco Group companies conduct audits and interviews of contract manufacturers and other suppliers as required to check for deficiencies in labor environment. When necessary, Group companies provide instructions to suppliers for improvement.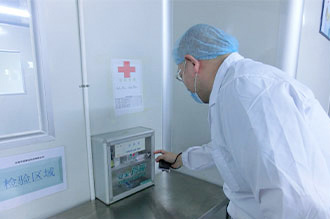 Bandai conducts Banadi Factory Audits (BFA), which combine quality audits and Code of Conduct (COC) audits, at overseas final packaging plants (180 plants in fiscal 2021) that make Bandai products. Standards have been put into place for BFAs covering eight areas (forced labor, child labor, working hours, wages and allowances, punitive action, discrimination, environmental protection, and origin of products). Audits are conducted in accordance with our original BFA manual based on the Bandai COC Declaration, which calls for strict observance of these standards. In addition to this, the Bandai COC Declaration, various control manuals, and other related information are made available in the Japanese, English, and Chinese languages, and are posted on the website for manufacturers. This enables suppliers to understand the latest status at all times.
At Bandai Namco Amusement, we check suppliers at the time of initiating a business relationship for possible legal violations in seven categories that include forced labor and other human rights infringements. We only do business with suppliers that pass this check. Also, for plants that assemble new arcade game products with which we initiate a new business relationship, we conduct interviews on confirmation items including the working environment and conduct audits as necessary. In fiscal 2021, we did not initiate a business relationship with a new plant.
Recognize suppliers using the Bandai Supplier Awards
Bandai hosts the annual Supplier Conference to share information on a number of topics including the production environment as well as requirements in terms of human rights and labor standards. We use this venue to actively disseminate and share information with suppliers and to host the Bandai Supplier Awards recognizing suppliers who clear the performance indicators set by Bandai at a high level. We ask suppliers that receive an award to lead presentations for other suppliers in an effort to share know-how with frontline operations. Through such opportunities, we are working closely with suppliers to ensure legal compliance and improvements in their labor environments.